Loading...
The Hunter's Lodge in Breckenridge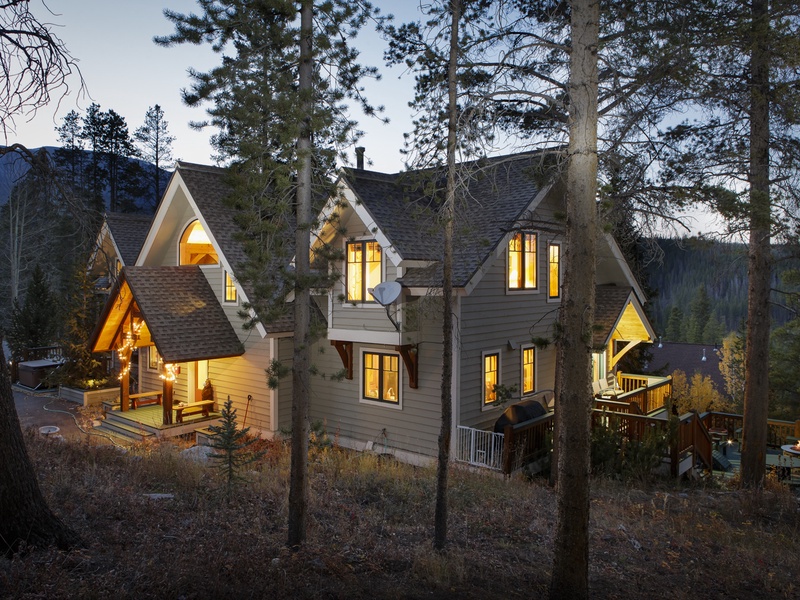 A unique mountain retreat, The Hunter's Lodge on Peak 7 is the destination for those seeking a true Colorado adventure. This 4000 sq. ft. timber-frame has unique character that is not for the faint of heart, but welcoming to anyone who wants to experience what it's like to be a wild-game hunter in the Rocky Mountains. If the style does not take your breath away, the alpine views surely will. Welcome to The Hunter's Lodge.
Physical Distance in style, at one our Private rental homes!
Alpine Edge cares about the guest experience: what is a Private Physical-Distanced Home?
• This home is a stand-alone, single-family house, not attached to any other structures.
• There are no shared common-areas.
• Your check-in is contact-free and 100% remote.
• Like all of our properties, this home is professionally-cleaned prior to your arrival.
• Our cleaning process includes disinfection with CDC-recommended products and an additional emphasis on any high-touch areas.
• Free wireless internet is included at every home.
• Private hot tub, professionally-serviced prior to your arrival.
We encourage visitors to check the Summit County, CO official website for up-to-date travel guidelines.
Deals/Discounts/Specials

Stay with us Monday-Thursday to enjoy discounted weekday rates.

Extended getaway? Special rates offered for week-long and month-long stays.
Call or email us for details on any of these special offers.


Please note that this home requires 4WD/AWD for access during the winter months.
---1st Floor – Ground Level Contains---
GARAGE / STUDY / FIRST BEDROOM / FIRST BATHROOM
Pull into the private driveway to park in your heated garage. You are on the ground level of the home, and where you'll encounter the distinctive study, outfitted with stacks of books to engage nearly any interest, unique décor, and a comfortable couch in front of the flatscreen TV. This room has a cozy twin-size daybed tucked in the back of the room. Down the hallway is the first bedroom, which contains a built-in twin-size bunk bed, and en-suite bath.
---2nd Floor --- Main Level Contains ---
LIVING ROOM / DINING ROOM / KITCHEN / PRIVATE HOT TUB / LAUNDRY ROOM
Coming up the stairs, you'll reach the main level of the home as you enter the foyer and grand living room. A large gas fireplace is one of the many statement pieces in this room, which openly flows towards the dining area, as well as the gourmet kitchen. The kitchen wraps around a huge center island with plenty of space to prep, cook, and gather. The appliances are top-of-the-line and the cabinets contain all the essential cookware you'll need to prepare a feast for your gathering.
Between the open floorplan, multitude of windows, and high ceilings, you'll have all the space you need to spread out. There are balconies that wrap around the exterior of this level, making it easy to bring your morning coffee outside and admire the views. The private hot tub is located just outside and has plenty of space for up to 6 guests.
MASTER BEDROOM / EN-SUITE MASTER BATHROOM
This level also contains a full laundry room, and the Master bedroom with en-suite bath. This bedroom has a queen-size bed, and a private gas fireplace for ultimate coziness. This full bathroom includes double vanities, a spacious shower, and a separate soaking tub. There is convenient access to the hot tub from here.
---3rd Floor --- Top Level Contains ---
LOUNGE / SECOND BEDROOM / SECOND BATHROOM / THIRD BEDROOM / THIRD BATHROOM
Continuing up to the top level of the home, you'll find a lounge with comfortable seating and a desk. This level also contains the final two bedrooms at opposite sides, each with a queen-size bed, closet and dresser, and bathroom. Throughout the home you'll find plenty of storage areas and upscale finishes.
You will have an exceptional vacation at The Hunter's Lodge. Whether it is in the summer, fall, or winter, it is the best place to start your adventure in Breckenridge.




Please be aware that there are security cameras placed in the access and parking areas. Any video footage is not shared and is only in place for liability protection, and in no way infringes upon our guests' expectations of privacy in the property. There are absolutely NO cameras in the interior living spaces of the home for your privacy.